Otto Gutfreund
Dvur Králové n. Lab. (Königinhof a. d. Elbe) 1889 - Prag 1927


Otto Gutfreund is one of the few Czech artists, whose work has attained international reputation beyond the borders of his own country. During a decisive phase in the development of European sculpture, Gutfreund looked into contemporary problems in a very individual way and consequently exerted a decisive influence on European Avant-garde. Gutfreund grew up in a Czech and Jewish environment in a small town in northern Bohemia.
After attending a school of ceramics in Bechyne, he studied at the Prague school of decorative and applied arts from 1906 to 1909. Subsequently, he went to Emile-Antoine Bourdelle in Paris, who taught the sculpture class at the private "Académie de la Grande Chaumière". Otto Gutfreund worked in Bourdelle's studio until 1910. His direct experience of contemporary painting in Paris moulded Otto Gutfreund's definition of his aims as a sculptor and the path his work would follow: "Being a sculptor does not just mean being able to model. A sculptor must be a mathematician in the first instance, who builds masses according to a deliberate plan, that means he must be an architect".
After visiting several European cities, Otto Gutfreund returned to Prague in 1910, where he joined a group of artists known as "Skupina výtvarných umelcu v Praze", whose first of four exhibitions took place at the Prague parish hall in 1912.
In 1913 Otto Gutfreund showed some sculptures at the first "Deutscher Herbstsalon", in Herwarth Walden's Berlin gallery "Der Sturm" and in the Munich "Goltz-Salon".
Gutfreund further developed Cubist tendencies together with the Czech painters Emil Filla and Bohumil Kubiëta and became one of the leading cubist sculptors alongside Picasso and Archipenko.
After serving in the war, when he was interned in a camp in Provence, Otto Gutfreund made a living doing odd jobs in Paris from 1918. Otto Gutfreund gradually recovered his creativity and returned to Parague in 1920. In 1921 he joined the artist's association "SVU Mánes". After a short Constructivist phase around 1919 Gutfreund returned to figuration in the 1920s. In 1926 he was appointed professor of architectural sculpture at the Prague school for decorative and applied arts.
One year later Otto Gutfreund drowned in the river Moldau on June 2, 1927.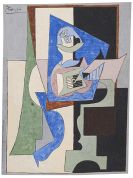 Pablo Picasso
Guéridon, guitare et compotier
277,500 $
Details